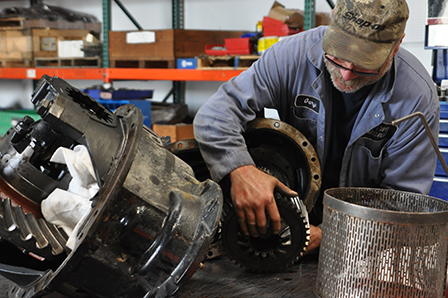 Smart companies confidently rely on Heavy Duty Transaxle to provide them with outstanding product knowledge, excellent customer service and solutions that fit any budget.
Experienced technicians
Unparalleled quality of service
Field service availability
Warranties on rebuilt units
Heavy Duty Transaxle has customers both domestically and internationally that service a range of industries. Contact us to get your equipment back to work!
Rebuild
Heavy Duty Transaxle has supplied the off-road transportation industry with drivetrain components for the toughest applications for more than 15 years. We supply both planetary and non-planetary axles for use in oil fields and mining operations, as well as many other segments.
Although we supply many types of transmissions, our Fuller department is second-to-none. We have an extensive inventory of Fuller components, carrying both new and rebuilt late-model exchange units.  Ask us about Core Exchange.
Contact us today – we'll find what you need.
Contract Manufacturing
Do you have a drivetrain or front axle that is no longer available from the OEM? We have a proven track-record of delivering products to world-class companies such as Raytheon and Peak Oil Field Services. Call us today to find out how our team can get your equipment back to work.
OEM Support
Heavy Duty Transaxle can help OEM's in all industries with new product development and after sales support. Our Company has a long track record of sourcing genuine and aftermarket parts for power train components used in a variety of OEM applications. Contact us to get the parts you need.
Building a New Piece of Equipment
Heavy Duty Transaxle can also help OEM's and End-Users create new model specifications for new projects and applications. Our team can also create new spec's to replace obsolete specifications.
Save
Save