We've got the Clark Planetary tandem axles you can't find anywhere else. Heavy Duty Transaxle specializes in rebuilt Clark differentials.
Clark tandem axles with anti-friction bearings in the wheel ends are capable of up to 45 mph operation. They can handle up to 500,000 lbs GCW, which is highly suitable for logging applications. With a carrying capacity of up to 120,000 lbs they are ideal for coal haulers as well.
Did you know we offer full rebuild services for Clark Axles as well? Contact us today to schedule an appointment!
Heavy Duty Transaxle has a large inventory or New, Used, and Obsolete Clark Parts.
View the current Heavy Duty Transaxle Clark flyer
Our technical team just completed a rebuild of Clark Axles, BD91000 for one of HD Transaxle's largest clients. Take a look at our most recent Clark builds.
Save
Save
Save
Save
Save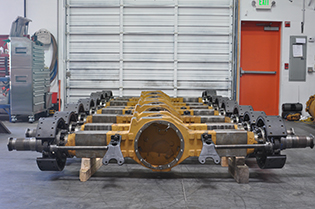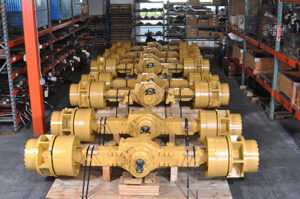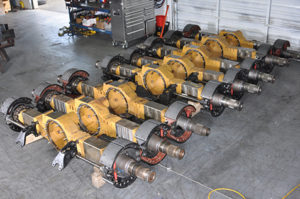 Clark Axle Models
BD45-60
BD50-60
BD5700
BD71000
BD91000
BD10100
BD12100
D65200
Clark Axles Features
Air brakes
4 pinion washers
Replaceable axle shaft thrust washers
Spiral bevel ring gear
Replaceable sun-gear thrust washer
Doweled side-gear washer
Dual wheel hubs
Needle-roller bearings on planetary gear
Splash-action lubrucation
Limited-slip, needle-roller on diff in BD121000
Available Options
Drive-through shaft on drop-gear carrier
Hubs for single-disc wheels
Inter-axle differential on BD57000 to BD101000
Upper torque rod brackets
Clark Axle Specifications