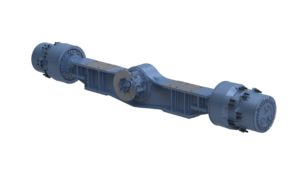 Heavy Duty Transaxle is a authorized distributor for AxleTech International. 
Tire consumption is one of the largest operating costs in container handling. AxleTech's patented XTL® wheel end technology is proven to dramatically reduce tire operating costs by extending the life of the tire. The XTL® patented dual tire wheel end allows independent rotation of wheels during a turn, thereby minimizing tire scrub, which is the main cause of tire wear.
AxleTech's patented XTL® wheel end technology
• Extends drive axle tire life up to 3 times
• Extends steer axle tire life up to 1.5 times
• Eliminates the need for tire rotation
• Improves vehicle maneuverability
The XTL® is available for both new production and in the field operated container handling units of all makes.
Axles with the XTL® feature will utilize 80% of the same components as current AxleTech axles.


Contact us to learn more about this product.