Heavy Duty Transaxle is an Authorized Distributor for AxleTech International. 
We carry a large inventory and stock various assembly parts. Contact Heavy Duty Transaxle today for assistance with your AxleTech On-Highway Carrier Assemblies and individual components. Heavy Duty Transaxle also offers Rebuild services. Contact us about rebuilding your AxleTech Differential. We keep new AxleTech Differentials in stock ready to ship from our warehouse, contact us for current AxleTech Differential models we have in stock.
Contact us for current pricing and availability.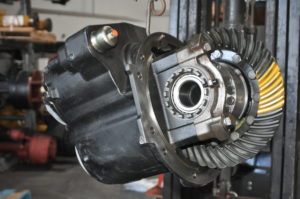 Heavy Duty Transaxle supports the following markets:
•    Military
•    Motorsports
•    Off Highway
•    On Highway
•    Transit
AxleTech product offering includes complete new carriers, as well as individual components.
We offer complete new AxleTech Differential assemblies – Core Free.

We also have kits – everything you need to assemble a new carrier yourself.
•    Major kit contains everything needed to build a new carrier
•    Minor kit (NRP – No Ring and Pinion) includes everything except for the gear set.
Sub-assemble a carrier ahead of time and complete it to the specific ratio that your customer
needs just by adding the gear set.
Carrier Components
•  Bearings
•  Bearing and Seal Rebuild Kits
•  Cap and Carrier
•  Interaxle Differential Repair Kits
•  Differential Case Halves
•  Differential spiders, pinions
•  Fasteners, shims, spacers
•  Ring and pinions
•  Seals
•  Side Gears
•  Thrust Washers
We keep a large inventory of Axletech Parts in stock, Contact us for Price and Availability on individual Axletech parts and Axletech Kits.
Current AxleTech On-Highway Differential Models we support:
Axletech Carrier Models
RR20145342
RR20145358
RR20145373
RR20145411
RR20145433
RRL20145264
RRL20145358
RRL20145373
RRL20145463
RRL2014488
RD20145264
RD20145279
RD20145342
RD20145358
RD20145373
RD20145390
RD20145411
RD20145433
RD20145488
Axletech Assembly: Specification Number
320001023A04342
320001023A04358
320001023A04373
320001023A0441
320001023A04433
320001021A19264
320001021A19358
320001021A19373
320001021A19463
320001021A19488