Take a look at the newest Axles that we have received in stock at Heavy Duty Transaxle. If you have any questions about the items you see below contact us.
---



Axletch SPRC1937
Axletech SPRC1937 Features:
Wide range of overall ratios are available, differential options are available, high capacity hypoid gearing, additional axle housing magnets, Inter-axle differential and pressurized oil lubrication system available. This virtually eliminates potential spin out in the forward/reverse directions.
We have AxleTech Axles, AxleTech SPRC1937 in stock and ready to ship!
---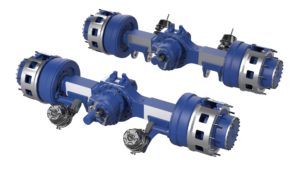 Axletech SPRC1735P New Genuine Tandem
90 Inch Track Service Parts in stock
Conversion Kits available
---
New Genuine & In Stock DANA /  Spicer  Rear Axles



New Genuine
Model: Dana D70-590P
Dana D70-590P , Dana Rear Axles
Specifications:
6.34 Ratio; 70,000 lbs; 75 Inch Track
On demand lock up, front and rear budd wheel hub piloted, outboard drums, inter-axle drive line, 56in Axle spacing, solid suspension.
Applications: Heavy Haul, Logging, Mining, Oil Field, Construction and Refuse.
These Dana Rear Axles are ready to install. Dana Rear Axles are new and current production take-off's with transportation miles only.
– READY TO INSTALL –
Save
Save
Save
Save
Save