At Heavy Duty Transaxle we don't play around. Our job is to solve problems, and that's what we do best. After one phone call you'll know what so many of our customers already do: We may not be the cheapest guys around, but when it comes to off-highway solutions there is no equal.
Save
Save
Save
Save
Save
Steve Manion, President
Steve is the founder and president of Heavy Duty Transaxle. With over 30 years of field sales experience, Steve has the real-world product knowledge necessary to help you with your off-highway and heavy duty drivetrain problems. Steve works with both small and large companies in the mining, oil field, construction and logging industries.
When he's not getting heavy duty equipment back on the road Steve enjoys hunting, fishing and spending time with his grandchildren. Contact Steve
Connect with  Steve Manion on LinkedIn
---

Gary Rembold, General Manager
As the General Manager and Shop Foreman, it's Gary's job to ensure that the products we sell meet the exacting standards we're known for. Gary brings more than 35 years of expertise in the mechanical rebuild field and more than 20 years of off-highway drive train experience to work every day.
Gary's secret talent (and why our customers love him)? He can solve most complex drive train problems over the telephone. Give him a call and find out for yourself.
---

J
ake Manion, Sales
Learning the ropes is never easy, but fortunately for HD Transaxle, Jake is a quick study. Born and raised in the business, Jake is a competent parts man that is willing to go the distance for the customer. Jake is always thinking one step ahead in order to get his customers back up and running.
When Jake isn't tracking down parts those hard to find parts, He enjoys fishing trips to Canada and Alaska, hiking, and traveling to new places.
---
Technical Team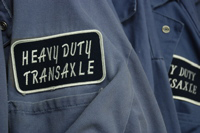 With over 70 years of combined experience, our mechanics know how to get the toughest jobs done. A lot of guys can turn a wrench, but it takes more than that to diagnose and solve the big problems.
We recruit and hire only the brightest and most qualified mechanics and parts experts. You won't find a lot of fooling around at our shop - we're here to do a job.
Watch our builds on YouTube
Location and Contact information
Heavy Duty Transaxle (formerly known as TBS Truck Equipment & Parts) is located 40 miles east of Seattle, Washington. Our business hours are Monday thru Friday, 9:00 AM to 4:30 PM Pacific Standard Time.
Telephone
(888) 383-3301 toll-free (US & Canada only)
(360) 794-2021
(360) 794-2112 (FAX)
Mailing address
PO BOX 160
Monroe, WA 98272
United States of America
Shipping address
16891 146th St. SE #103
Monroe, WA 98272


United States of America
Heavy Duty Flyers
View our current flyers, print them out, hang them up & remember to call us to get your equipment back to work!